2008 Trip Report
by Thomas Wollwo
Page 1 || Page 2 || Page 3 || Page 4 || Page 5
Part 6 - Kicking Out the Donkey
Andrew had had the excellent idea at meeting up for dim sum at Ping Pang Pong and the common sense to arrive an hour late to score a separate table for him and Mrs. Andrew, away from the louts at our communal table. The dim sum was very good and our table ordered family style, trying pretty much everything except for the chicken feet. The check came to $13 per person which was a great deal for that much good food. The company was excellent and I repaid those good people by liberally smearing the neon blue glitter on my t-shirt which seemed to come off at an alarming rate pretty much everywhere (more than one person looked at me very concerned during the Soiree (where I sported my t-shirt stating "Be careful or you'll end in my novel", courtesy of Donna) and asked me, very alarmed "Are really wearing glitter in your face?". Wolfgang had very graciously bought the matching shirts for a whopping $6 -- they were worth every penny, but certainly not a single one more. We wanted to wear them at the SSSOP to temporarily blind all opponents. However, he had the good sense of bringing a spare, being able to change right after the tournament, while I left a neon-blue trail for the rest of the afternoon.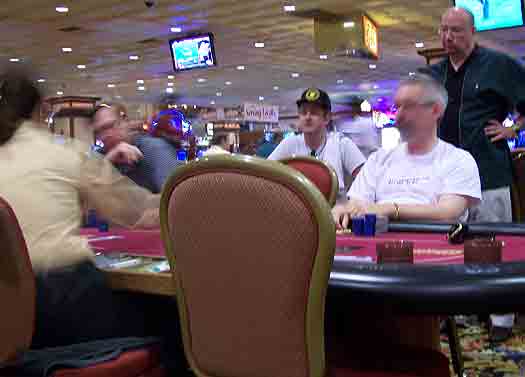 The 2008 Solar System Series of Poker Final Table.
Let it be known to the world that I finished 11th at the SSSOP (up from 17th last year), kicking out Donkeydode with a lot of luck on the River with a flush draw. I might have seriously hampered Matt's chances of generally harassing everyone at the table for much longer, hadn't the River provided him with a pair of 10s against my pocket 3s. Wolfgang finished 7th, so I'm afraid I'm not European Champion any more. I played for close to two hours and had a great time, actually staying in the tournament longer than Burt. Then again, pretty much everything stayed in the tournament longer than Burt. I might have been more successful if the cocktail waitress hadn't limited my energy drinks to a total of four.
I played a few more match plays and some free play from LVA while Wolfgang lounged at the pool and finished the trip $45 up.
We had the dinner buffet at Makino at $24.95. There's not too much to justify the extra $10, only some crab legs and fresh oysters which were great. But this is an excellent deal, with so many kinds of sushi the rest of the offers get second billing. There were some great clams, though, and the dessert selection is very good for an Asian place. I dig this crème brulé.
Other people might be better qualified to describe the general Vegassy goodness of the Soiree this year. Let me just say that these are some of the nicest and funniest people one could ever hope to meet. I was introduced to the mysterious realm of the American stunt cocktail by Mrs. Andrew. After downing a Jaeger bomb (energy drink!)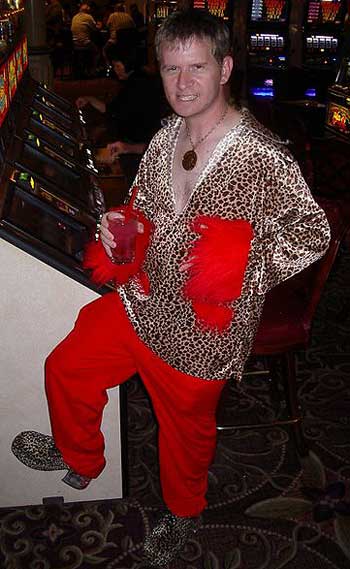 Jerry dressed sartorially for the Soiree.
which was passable, I was talked into having an Irish Car Bomb, which not only sounds disgusting, but also looks disgusting. On a more positive note, it tastes exactly how one would expect a car bomb to taste, which, unfortunately, is disgusting too. Jerry was clearly winning Sartorial Splendor with a get-up I can only describe as "jaguar pimp". I even caught a glimpse of Breena, looking longingly at Bill from Houston, but she disappeared as soon as she realized Bill hadn't bought me lunch yet as promised. Doctor Bob presented me with two cans of delicious English beer (and I proudly tell the world: Yes there IS good English beer. Only not much) he brought all the way from England. I said a fond farewell to many old friends and a few new ones around midnight and went with Wolfgang to the El Co one more time to look at some neon at night. Finally, we went to bed at around 1 a.m. after one last watery cocktail at the Nugget courtesy of one of the coupons we had received at check-in. I was so tired I could have sworn I'd be sleeping until the wee hours.
One minor problem with our Golden Nugget room 22107 (great Strip view, BTW) was its smallish bathroom and quite noisy air con which produced a thundering noise during the night which, as it turned out, could only be outdone by Wolfgang equally thundering snoring at 4 a.m. So I just had to get up, getting a total 3 hours of sleep. Fremont Street was peaceful as I did one last tour of downtown stopping at the Golden Gate, MSS and Binion's poker room where I'm typing this as the trip is coming to a close. I never know when I'll be coming back to Vegas, so I try to do every trip as if it we the last one for some time. I made the most of this one, I felt.
At 8, we drove to the Florida Cafe for a Cuban breakfast and more Cafe con leche - highly recommended and the only repeat meal on the trip. We spent some time relaxing at the Nugget's pool, before it was time to check out and to get to the airport. There were differing opinions about just when exactly it was time, Wolfgang figuring that his leisurely approach to timing check-in had worked just dandy back at our departure, but we figured out a compromise: he'd be taking his sweet time, while I was suffering a mild coronary.
Arriving at the airport, we found out that the flight was going to be 2 hours late. When we finally had boarded, a cheerful captain informed us that we had the privilege of starting and landing twice on that non stop flight: they would need to land in Iceland to pick up fuel due to the weather. I more or less didn't care anymore, drifting off to a peaceful sleep. We spent a total of 20 hours from door to door, with a flight time of 13 hours.
Would I do it again? Mmmh -- in a heartbeat.