2008 Trip Report
by Thomas Wollwo
Page 1 || Page 2 || Page 4 || Page 5 || Page 6
Part 3 - My Vegas is Showing
4 a.m.? Time for a coupon run, if you ask me! I drove down scenic Rancho highway, narrowly missing a few of the area's denizens that kept jumping on the road. Winning the first $25 match play always is a good sign.
Match plays totals were as follows at this point: won $5, $10 and $25, lost $10 and $25. Gambling total: up about $50, considering a bit of vp.
I phoned TBWOTP while watching the sun rise over the mountain while the late night gamblers stumbled out of Santa Fe Station. Somehow, it felt oddly peaceful.
After a cup of coffee for Wolfgang, we went to the pool for an hour or two. The clientele here was, to put it mildly, different than at Mandalay Bay. I hate these shallow pools without any real swimming, but the pool area is very attractive. I took scores of photos of the wildlife habitat.
We got the rest of the shopping out of the way at the Downtown Outlet Mall. Still, I managed to forget I few things -- grrr (no Osh Kosh jeans for my son this time). We then visited the new Town Center Mall South of the Strip near Fry's. It's very nicely done, with the buildings and street scene resembling a main street. Unfortunately, the Whole Foods wasn't open yet. The metered parking in the streets (as opposed to the plentiful free parking outside) isn't that bad an idea and looks rather authentic. The Borders store looked a lot bigger than it was. There wasn't an opportunity for a light snack, so we didn't have anything at all. This proved to be a slight mistake later on.
Wolfgang hat forgotten a shirt at Mandalay Bay and had called them about it. We were able to retrieve it from the security desk on the casino floor - in and out in about 10 minutes. We returned to the Flamingo and crammed everything we bought into our suitcases which took quite a bit of work.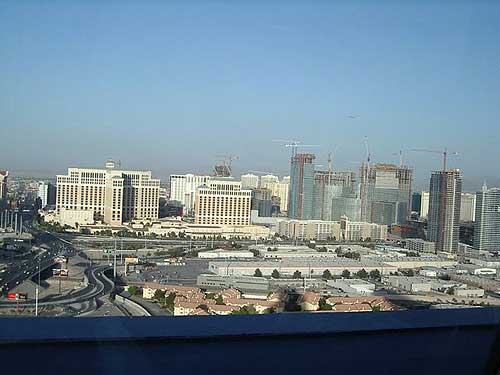 The view from Alize at the Palms (during the day).
Dinner with my good friend and adopted sister Donna was at Alize at the Palms. The room was gorgeous, and since Donna had handled the reservation, we actually had window seats this time. The view from the top floor of the Palms overlooking the Strip as dusk settled was breathtaking. We chose the five course prix fixe for $105, and while the food was very good, there were some problems. First, portions were way too tiny for these prices. To add insult to injury, the a la carte portions looked at least double the size of the tasting menu's. The price was higher than what the menu on the website had said. The food didn't reach the orgiastic qualities of, say Picasso, Bradley Ogden or Delmonico. Then there was the wine pairing that Donna had taken for $55. Again, the glasses were filled just a bit. As you might know, I'm a firm believer in spending money if the value is right. Here, it wasn't in my book. The best dish were the jumbo lump crab stuffed piquillo peppers. A baby spinach salad was a tad boring, the Dover Sole, a signature dish, was very good, but again, there wasn't much of it. I actually don't remember much about the meat dish, while the dessert combination of three different desserts was once again a good dish, also providing some much needed closure for my stomach. The meal failed to crack my Top 5 restaurant meals in Vegas, which are L'Atelier de Joel Robuchon, Picasso, Bradley Ogden, Delmonico and Rosemary's Restaurant.
Still, the company was delightful and we spent more than three hours in a gorgeous room with a view second to none. And I got presented with a great t-shirt by Donna, which many of you already know, since I nixed my original Hawaiian motive costume for the Soiree and went with "Be careful or you'll end up in my novel" instead. Thanks, Donna!
We went to bed at 10 p.m. At 11, there was enough noise emanating from the bed next to me to make me debate smothering Wolfgang with a pillow, but that seemed risky, as Wolfgang is a big guy and, most ironically, a pretty light sleeper. I managed to go back to sleep.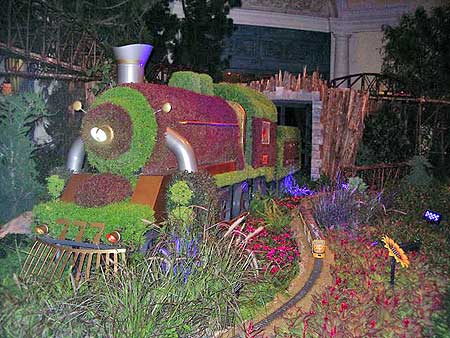 The conservatory at the Bellagio. Choo choo.
At 2 a.m., the pillow smothering thing was beginning to look REALLY good. I hastily got out of the room and walked to the Strip.
Bellagio was as dead as the liver of the guy who drunk all of the cheap beer that flows like bitter irony in downtown Las Vegas.
An attractive African American woman was dancing listlessly on a podium at Planet Hollywood's Pleasure Pit. I like a lot what they've done with casino lately, but that podium looked so much like the Bevertainer's one at Rio it didn't seem such a great idea.
Next, I took advantage of the best Bally's had to offer: walking through there quickly.
Earlier that evening, I had explained the game of Spot the Hooker to an unduly interested Wolfgang and had added that I had never been approached by a hooker in Vegas even when travelling alone. Of course, that happened right now. A blonde pointed to my totally stylish new messenger bag and purred "so, what's in the bag?" Goody! Witty banter, one of my specialties! "A thousand shattered pieces of a life gone horribly wrong?" I said hopefully. Obviously, there seemed nothing she could say to top that, so I moved on.
When I checked the menu at Bill's Victorian Room, a brunette tapped on my shoulder. "Yes?" I finally asked, wittily. There was a pause. "Never mind, I thought you were somebody else", she said. "Whore! " I was about to shout, when I saw her rejoining a group of 4. I retreated to the main bar, whipped out a LVA coupon and ordered a strong manly drink: Captain Morgan's with pineapple juice.
I called the best wife on the planet with my trusty Tracfone and we had a loong conversation while I walked to the V.
I was feeling peckish, but not that hungry, so I ordered an appetizer from the surprisingly limited late night menu at Grand Lux at the V (the Palazzo location closes at night). Vietnamese Summer rolls set me back $8.95 and were, of course, humongous. There also were 8 of them. They also were very good. Now that's value, I thought.
I entered O'Shea's for the first and probably last time and watched a game of beer pong while Tom Waits sang about the cold war.
It was time to get out of town. My Vegas was showing.