2008 Trip Report
by Thomas Wollwo
Page 1 || Page 2 || Page 3 || Page 4 || Page 6
Part 5 - The Boys Are Back in Town
Matt dropped me off at the Sahara, where Wolfgang had forgotten to inform reception about my impending arrival. I left my bag with the bellman and had to figure out a way to get to the Hard Rock without a car. I have never taken a cab in Vegas and I wasn't about to start now. These things cost actual money, I'm told. So I used a LVA coupon as a twofer on the monorail and walked the rest to the Hard Rock, playing a couple of match plays on the way (which lost more money than a cab would have cost) and picking up my free hat at Terrible's.
I was wondering what Wolfgang had been up to the whole time. A simple guy from Germany alone in the big city - I knew the feeling well. He might very well encountered some trouble, some glitches, some inexplicable phenomen. So I was glad when I met him crossing over from the Hard Rock to the strip mall across the street, where we were supposed to meet the Andrews for dinner at Origin India. "Any problems? " I asked. "None whatsoever", he beamed, adding, in a tone different from his usual carefree ways, "WHAT ARE THEY DOING TO MY CAR ???". I resented his implied ownership of what was essentially MY rental car, but I quickly changed my mind when I saw that the car HE had been driving was in the process of being towed. It was his car all right, I thought, at least for now. Apparently, Wolfgang had decided to buy a t-shirt for a friend of his at the Hard Rock Cafe and a very unfriendly security guy who refused to give his name or the company he was working for had alerted the tow truck which had arrived, suspiciously, about 5 minutes after Wolfgang's departure. It was $100 to make him disappear, but at least he had some credentials.
Fortunately, the rest of the evening went a lot smoother. We had been alerted to Origin India by one of westie's excellent trip reports, and had very good meals and excellent company in Mrs Andrew and Andrew. Mrs Andrew seemed unduly amused by the expression "skanky goth girls". I guess they don't have these in Alabama.
Unfortunately, Origin didn't offer the tasting menu anymore, but after some free papadam we had an appetizer platter with a selection of almost all the appetizers on the menu, some shrimp and lamb dishes as main courses (due to the great company I forgot to write the names down as I usually do) and excellent naan. We had separate checks, and they accepted a $10 off coupons for each of them. Great meal, great company.
We had some after dinner drinks at the Sahara bar where Wolfgang explained an intriguing theory about professional sport. We had both seen the Lakers dominating the Celtics in the early third quarter of Game 4. Wolfgang explained to me that the Celtics were playing that bad on purpose, so that the series would be longer, and more money would be made. I just pointed to the TV screen in front of me, where enthusiastic Celtics were celebrating their astonishing rally. This might have put a tiny chink in the armor of Wolfgang's reasoning, but he was having none of it. "Hmmm - they are cleverer than I thought", he mused, "that would have been too obvious".
That night, I didn't wake up because of Wolfgang's snoring, but was up early anyway. After some more shopping, I picked Wolfgang up, and we headed to Florida Cafe which I had been hoping to try for some time.
Florida Café is located at a Howanrd Johnson's in the Naked City. The hotel looked rather nice, with an adequate pool, though the area wasn't anything to write home about. The restaurant was very atmospheric -- it looked authentic without the kitschy nic nac so often found in ethnic restaurants. Serivece was great and very friendly -- one of the things that had been criticised in some of the guide books. A Cuban sandwich was excellent at $8.95 and came with a lot of great fries. Wolfgang had the steak sandwich he also liked a lot. He also got tomatoes, which weren't included with my sandwich. Additionally, they offered the best coffee I have ever had in the USA, a dreamy cafe con leche. A newspaper clipping displayed in the lobby proclaimed that the chef wouldn't allow anyone else at the kitchen's helm and had not missed a single day in the kitchen for decades, seven days a week.
We checked out the Gambler's Store along the way which seems to have some competition on site these days. When Wolfgang tried to purchase a single chip, the clerk just snorted and gave it to him for free -- a $.45 value!
We checked in at the Golden Nugget where I explained to Wolfgang that using my patented banter on the clerk would be a waste because a) it was too early, b) he didn't look all that nice and c) there weren't any decent views available anyway. Promptly, we got room 22107, sporting as good a Strip view you're likely to find anywhere downtown. The bathroom was on the smallish side, but the rate of $79 on a weekend with a passable coupon book thrown in was very good. Wolfgang looked expectantly at me for an explanation for the room we got. I decided not to kick him again. Instead, I sulked.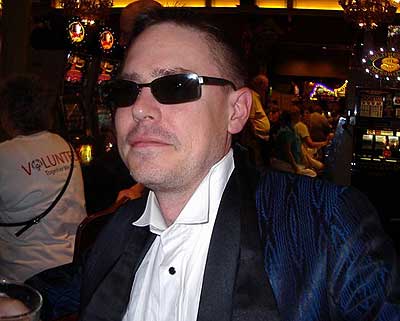 Burt dresses down for lunch at Table 10.
Burt had already called that he had arrived in Vegas, and Wolfgang dropped me off at Palazzo where Burt had very graciously offered to share his comped room with me, thereby adding to the all-important list of hotels I've stayed at in Vegas. He had got a great suite on the 31st floor with a Strip view which strongly ressembled Donna's room at the V the year before (except that it was a little smaller). A Sinatra concert was already playing on the flat screen TV.
We decided it was time for lunch.
Burt displayed his keen sense of orientation by leading me straight to Table 10, the new Emeril Lagasse restaurant named after the most famous table in his New Orleans restaurant. It was a stylish room with an interesting menu, but they will have to improve the signage: even with Burt's keen sense of orientation, it took us 20 minutes to find it.
We shared very good crab cakes ($16), then I had plentiful lamb sliders for just $11 and a Fat Tire ($7.50), while Burt had an ethereal lobster pot pie for $36. We had a great meal and it was great to be able privately to Burt. And yes, all you've heard IS true.
He went to meet his brother and I checked out the pool and had a look around Fashion Show. Then I took the Deuce to downtown - a great deal, but painfully slow, even though there was hardly any traffic at all. I snagged
the coveted seat up in front at the top, which was probably empty because a) it was freakishly hot despite the ac due to the sun's rays and b) because the matron next to it clearly didn't approve of someone taking that seat. I didn't care so much and stayed bravely until the end.
Others have reported at length about Andrew's cocktail reception at MSS. As always, time went far too fast, especially as I had planned to down 5 sponsored cocktails, but also because there was much catching up to do with new and old friends. The great downtown tour Lynn did afterwards was a lot of fun, too, even despite the heat, and Iím looking forward to any video documentation Dr Bob might be able to offer. We had to leave a bit early, though, because we had to get to Green Valley Ranch in time for our concert. Marc Cohn was playing at the Ovation Lounge and we attended the same concert as Andre Agassi and Steffi Graf. The sound was fantastic and the video screens provided an extra close-up look of the excellent musicians on stage, even though that might not have been necessary, as the Lounge isnít all that big and, though sold out, there were maybe 300 people in it. It was a very good show, and I actually enjoyed ìWalking in Memphisî the most, one of his songs I donít like all that much, because he did a lot of interesting stuff with that one ' he played it in about 4 different styles. As so often in Vegas, the concert was over after exactly 90 minutes.
So until Purple Reign at the south Coast, we had one hour extra time to spend at the Central Strip. So what would be a good way to do that ?
Park at Bill's for convenience
Catch a Fountain show, preferably "Luck Be a Lady"
Watch that great dancer at PH's Pleasure Pit, taking note of interesting anatomical details
Buy a gift for the BWOTP at the Miracle Mile for atonement
Have a crispy $5.95 sandwich at Earl of Sandwich (the club or ultimate cheese would come to mind)
Sometimes everything clicks, and this was one of these times. Happy, we took the interstate to South point and paid our $5 cover to see Purple Reign where we met Walt. I had seen the show 3 times already and this time, the venue and the sound were clearly the best. There was a bit too much of Morris Day for my taste, and the hot dancers were missing. When Wolfgang told me he wanted to get back to the hotel, they were announcing a new feature: a set of Prince-unrelated funk. I wonder how that might be and would be interested in a report.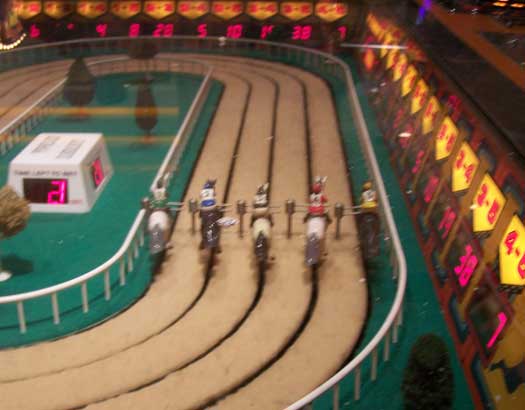 The Sigma Derby Handicapper's Challenge that Thomas avoided.
I had been looking forward to the Sigma Derby so much. So when I had dropped off Wolfgang at the Nugget at 0.30 a.m., I laughed at his petty tiredness. I drove over to the MGM Grand, entered the garage and somehow could not concentrate any more on the monumental task of actually finding a space (or even a parking deck, for that matter). When the garage unceremoniously dumped me on Koval, I figured it was time to head for Palazzo. I liked the casino layout, by the way, and the waterfall area looks pretty classy, too. As I mentioned, signage is still a problem here.
What follows now may suspiciously sound a lot like a made-up male fantasy or some hallucination brought on by extreme sleep deprivation, but it really did happen.
As I stood watching in the center of Palazzo's casino for minute (or two), I couldn't help but notice how many extremely attractive people were passing by, many of them in very short skirts and revealing tops (these were, thankfully, the girls, for the most part). One t-shirt said "Have a cock and a smile". Five attractive young Asian girls wearing matching black dresses and high heels entered the elevator in front of me, giggling. A lot. The elevator's sole other occupant was a young whippersnapper wearing an expensive black silk shirt open to his navel and some Armani bling around his neck. The girls began to chat us up (you didn't misread, gentle readers, "us") and invited us to come to their suite on the 32nd floor. The other guy got off at the 29th and the girls actually renewed their offer, to me exclusively this time. "We got red wine", one chirped. "Good one, too", another giggled. "It's Merlot". That settled it: there was no way I'd drink Merlot - I'm a Cabernet Sauvignon kind of guy. So I respectfully declined and went to my room, pondering why something like this never ever happened to me back when I was single.
Burt arrived some time during the night, but as usual, I was awake pretty early, around 6.30 this time. I drove around for a bit, running some more errands, until it was time to pick up Wolfgang for breakfast.