2008 Trip Report
by Thomas Wollwo
Page 1 || Page 2 || Page 3 || Page 5 || Page 6
Part 4 - Skanky Goth Girls
"I killed a man in Reno, just to watch him die" - Matt Weatherford
Wolfgang dropped me off at the airport and I tried to think of ways to get out of my commitment to drive to Reno with Matt. He had dared me to drive to Reno, have a meal there, sleep for a couple of hours and go back. It seemed like an obviously stupid idea. Naturally, I was in.
I decided to hide at one of the baggage carousels. Unfortunately, he found me anyway. We got a Suzuki at Thrifty that looked like it would barely make it off the airport lot. None of the amenities of the 21st century seemed to apply here: No cruise control, no power locks, only 20 PS. But it featured a cd player, which was important, because we had agreed to prepare some music for the long drive. My cds were labeled "peace", "understanding" and "friendship". His were labeled "Annoy, volume 1-4". He had made a track list that seemed mostly made up, with song titles like "Let's rip off her head to see what's inside". Unfortunately, it was real.
It soon turned out that of course Matt had an agenda for the trip. He was to use my considerable artistic abilities to shamelessly make truckloads of money. I obviously couldn't agree to help him, until he promised me screen time on the world's only web site, the Fig's Umpire or something similar. Obviously, he was in desperate need of help, so I finally agreed, knowing that if that project would be completed as fast as the trip report he promised last year, the projected time of completion would be around 2023 (or whenever Echelon first turns a profit).
Quite a bit of time had passed when the Stupendous Suzuki reached Beatty, a place full of exciting amenities like free parking. There were quite a few wooden shacks, and Matt had to photograph every single one of them. It turned out Matt was an expert on taking photos.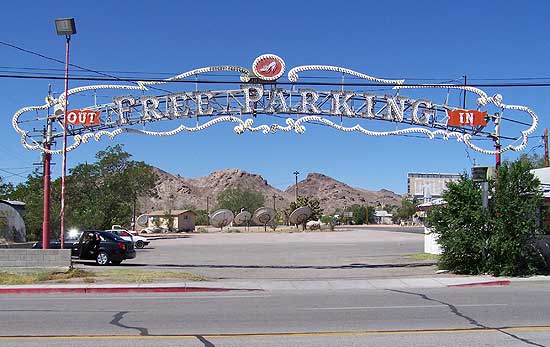 The spacious Free Parking in Beatty, now used by a casino-turned-hardware store.

He also seemed to be unduly interested in driving. I offered to take the wheel time and again, but he just mumbled excuses like "you look tired", "an automatic is a lot trickier than a stick shift" or "whoa, that was a big truck I missed narrowly right there".
We had sandwiches for lunch in a run-down casino near Tonopah. Our project (which I can't say anything about, having signed 13 confidentiality agreements - you do this sort thing when you're faced with the prospect of walking back to Vegas from a dusty road not so very near Goldfield, Nevada) started to take its toll - I was drained, physically and artistically. Matt, of course, did not care, but cranked up the volume on "Let's kill the foreign guy and leave his carcass to rot in the desert", featured prominently (and repeatedly) on "Annoy, Vol. 4".
Leave it to America to procide a 30 minute traffic jam in the exact middle of nowhere. There was construction going on, and our lane was closed. Matt had great ideas about "just taking the Suzuki through this river, up the mountains and down that shortcut I know". I wrested the key from his hands.
We finally arrived in downtown Reno and I got the grand tour. It felt good not being the guy playing the tour guide for a change, as I had been doing that for Wolfgang for quite a bit. So I followed Matt around as he constantly took wrong turns and kept walking in circles. He explained he was somewhat of an expert on Reno and that this was the way it was meant to be enjoyed.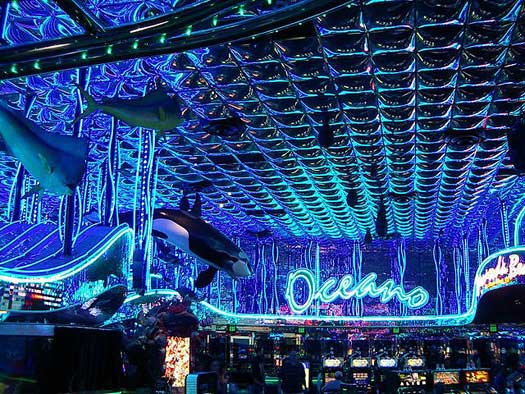 The interior of the underwater themed part of the Peppermill.
We headed over to the Peppermill, and while the downtown casinos had been interesting enough but a bit blah, the Peppermill was everything I had hoped for. There was glorious neon everywhere. Every restaurant had its own neon theming. There was the coffee shop and Fireside Lounge just like in Vegas, but with the added convenience of being able to stumble up to your room after a cocktail too many. I took about 60 pictures of neony goodness and then we checked into our room in the Tuscany Tower.
It was just like our room at the Western.
Seriously, it was a very nice room featuring two King beds and a big soaking tub with jets as well as a shower big enough for 6 with dual shower heads (Matt tried to invite 5 girls to our room to share the shower with him. Results seemed iffy). Nice as it was, the price tag of $139 seemed a bit high, especially for Reno. To get the most out of the many bucks Matt had to pay, I immediately pocketed the soap. Oh, and the shampoo. I might have also taken the conditioner.
We had dinner reservations at the White Orchid, the Peppermill's gourmet dining room. Value was great here: a three course dinner for $49 featuring baby spinach salad with pine nuts, lardons, cranberries and raisins, then a filet mignon with horseradish potato cake and wild mushrooms and finally "A Study in Cheesecake": All American, candied ginger loempia and mascarpone amaretto semifreddo. The wine pairing went for $11. Great food and a great deal.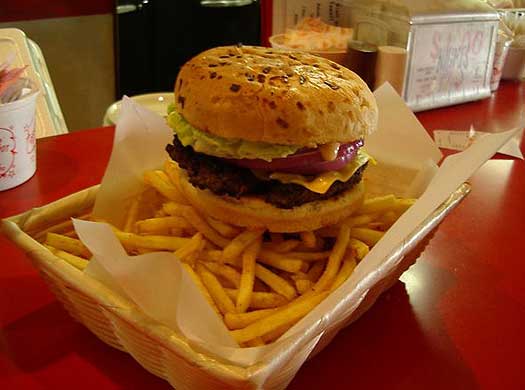 The awful good and awful big Awful-Awful

.

We went to bed early, as we wanted to depart early to get the most of the Sierra Nevada the next morning. I actually was able to sleep 6 hours in my very comfortable bed. And I can finally tell the world a really good thing about Matt: he does not snore.

The next day, I got up at 4 for a long phone call with TBWOTP. Apparently, our son had smashed the giant window in our living room with a hammer. He was building a rocket, you know.

I played a little penny video poker and happily woke up Matt at 6 a.m. We drove back downtown to the Nugget's coffee shop for a healthy breakfast: the Awful Awful burger at $5.50. It was supposed to be Awful big and Awful good and it delivered on both counts, sitting on a big heap of fries.

There was a rail-thin, skanky looking Goth girl sitting beside us at the counter. Matt of course fell in love with her immediately, declaring her to be "half orphan, half stripper, all good". I couldn't see the orphan part (and the stripper part seemed to be pushing it, too), but Matt was happy enough. He seemed to be an expert on both, orphans and strippers. Oblivious to her actual appearance, he started fantasizing about her looks and called her "Tiffany" (when clearly she had to be named Zombie Kitten or Arachna). I looked over to her and she hissed.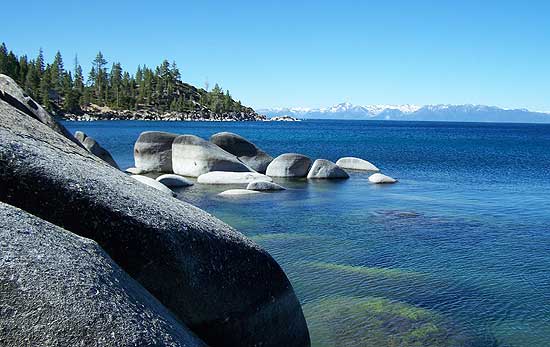 The shore of North Lake Tahoe.

The drive along Lake Tahoe was beautiful, especially as Tiffany had declined to join us. We took 395 south and drove through the great landscape of the Sierra Nevada. I like driving through the desert, but the scenery on the drive the day before had become a bit repetitive after 8 hours. Today, there was much more to see, and the scenery kept changing. From time to time, even Matt stopped reminiscing about his stripper orphan (he kept proposing to return to Reno to pick her up). He also wanted to make her "whole". I asked whether that might entail killing her remaining parent, he said I obviously didn't understand the English language well enough to grasp its finesses. I finally had to intervene by promising him vast quantities of skanky goth girls in Vegas, a prospect that seemed to cheer him up considerably.

We chose a tiny cross road north of Death Valley to rejoin US 95 back to Vegas. This was an excellent road, with many dips and turns, glorious tarmac, great scenery and even a bit of one lane road blasted through the rock.

We made it back to Vegas at 6.30, having spent a total of 19 hours in the car in 34 hours. I hadn't been bored one single minute of it.