2008 Trip Report
by Thomas Wollwo
Page 1 ||Page 3 || Page 4 || Page 5 || Page 6
Part Two - Bring On the Burlesque
We went to bed. I woke up one hour later, sure that the fat guy from the plane had somehow found his way into my room. But it was just Wolfgang, snoring happily and oblivious to a variety of pokes and kicks. Well, who needs sleep in Vegas anyway.
Part of the coupons I had gotten as part of the deal was free admission to Ivan Kane's 40 Deuce, which is a burlesque night club right across the Reading Room (which, stop the presses, is still open!). I was determined to get all I could out of the hotel room deal, so I strolled confidently towards the bouncer, an even cooler version of Barack Obama. McCain obviously had the evening off. I was ready to manly present my shocking pink voucher, but he waved me right through, his face conveying either "man, do you look cool" or "we're really desperate for guests", I wasn't quite sure. He asked me whether I had a bomb in my backpack. I correctly guessed that the right answer to this one was "no". I strolled past the door marked "Penis" thinking "I'm not falling for that one".
Inside, the room was on the smaller side, with plenty of red couches, two bars, a tiny dance floor and a stage running along two walls, complete with stripper's poles.
I was easily the most underdressed guest here, but I still felt comfortable. There was a good-sized crowd that obviously was having a grand old time. I stood frozen in the middle of the room first, feeling very old. And I certainly was, compared to all of the other guests. Many of them were women in different stages of inebriation, all of whom watched disgustedly as I whipped out my trusty pocket pc to file this report. I secured a seat (decidedly no bottle service here), decided against an overpriced drink and watched the proceedings. There was quite a bit of high-pitched screaming. Meanwhile the music was loud, the basses were thumping and the lyrics contained the word "sexy" a lot. To my surprise, I knew a few tunes - there even was a dance floor version of Springsteen's Born in the USA.
Goody! It seemingly was amateur night at 40 Deuce. A host of young women was trying to find their inner Britney by showing off some basic moves at the pole. A rather beautiful blonde, unfortunately dressed in torn fishnets, a cut-off jeans vest and a feathered fedora showed them the ropes and started gyrating around a pole. It was like a very dry version of a strip club - or at least of what I'd imagine a strip club to be.
I finally was courageous enough to open the "Penis" door. In the restroom behind it, a burly African American attendant on rest room duty gave advice to a scrawny white kid with a goatee. "You gotta play the game. You gotta go out there and TALK to the ladies. If you score with one out of ten, that's a great percentage. Man, girls are just like us. They like to explore!" The kid took off, no doubt to get his heart broken into a million little pieces repeatedly.
I imagined a curvy babe in the women's restroom getting advice along these lines at the same time: "Men are just like us, girlfriend. They like to explore." It seemed somewhat unlikely.
Just when I got ready to leave around 12.30, an actual show started. There was a guy with a saxophone, a bass player and a drummer, all straight out of central casting. The bald drummer looked especially cool, with dark glasses, white jacket and tie and a black shirt, cackling maniacally. Maybe that WAS Ivan Kane, drummer by night, Bond super villain by day. The blonde returned. Sensibly, she was wearing layers now which she proceeded to shed, accompanied by cool old tracks by the band. It was very athletic and actually pretty sexy. She left wearing essentially the same amount of coverage than many of the girls sported at the pool earlier today. The band played Viva Las Vegas, and then, a dark haired girl proceeded to do her own routine. Pretty awesome.
I had spent an hour or two in an upscale club paying absolutely nothing. Obviously, I felt good. Obviously, that was not to last.
I made my way down to the Monte Carlo to pick up some provisions at CVS. Some random note:
Progress at City Center during the last year is pretty impressive
The location of the new beer bar Pour 24 is awful and its prices are way too high
As is the destruction of the Monte Carlo's entrance taken up now by that ugly Diablo cantina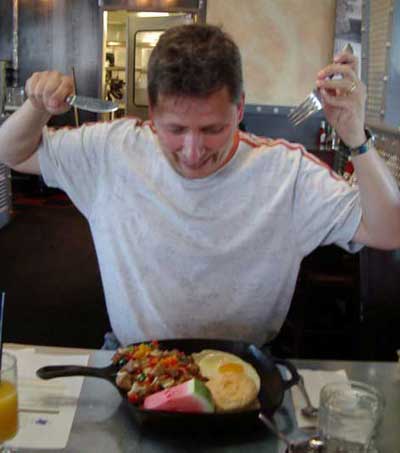 Dorky German digs in at the Hash House a Go-Go!
I took care of some basic shopping for the kids and returned to the room. At 6 a.m., Wolfgang finally had destroyed enough wood and woke up.
Breakfast was at Hash House at Go Go at Sahara and Rainbow. They are promising farm food with a twist. I liked the design of the room -- spacious but not too big, with some great black and white photographs. We had hash with chorizo and jalapenos and a meatloaf hash with spinach and mozzarella. Both came with fruit, a biscuit, crispy potatoes and two eggs and were around $12. Because Andrew had sent me a $10 restaurant.com coupon (thanks!), the total with beverages was about $22. Both of us were unable to finish our food - and we usually manage do that. An obvious recommendation, and the service was great, too.
I reactivated my Tracfone, which was a lot of work. I had to call an operator who made me punch in 60 numbers in a low, mumbling, heavily accented voice while I strained to hear her over the casino's din, but it worked out fine in the end.
We had decided to get some shopping done at the beginning, so we spent 5 hours at the Outlet mall south of the Strip. Very successfully, if I may say so myself. Wolfgang had looked at me doubtfully when I had told him I needed to spend some time there. I finally had to wait 30 minutes in front of the Levi's store for him. "You were totally wrong when you said only Germany buy 501s", he said as he emerged, accusingly. "I asked the clerk and he said plenty of Spaniards buy them too".
The Go Room at the Flamingo: Fa-ancy!
Checking in at the Flamingo proved to be difficult, as there was a huge line at 5. So we just had a coffee, sat beside the main aisle of the casino and wondered how the clientele of Mandalay Bay and Flamingo could belong to the same country.
We drove over to Rio for their dinner buffet. I hadn't eaten there for 15 years and after many reports of bad food, recently there were quite a few good ones. It also helped that the LVA coupon slashed the price of $24.99 by half.
The selection at the buffet was humongous. We were placed at one of the ends and you had to work quite a bit for your food, just to get there. The crab legs weren't split, but tasted very good. The sushi selection and quality was better than at other non-sushi buffets, and 5 kinds of dim sum also did not disappoint. There was plenty of mediocre food, too, but we felt we definitely got our money's worth, especially with the coupon.
We finally checked in at the Flamingo and the check-in clerk who spoke German fluently gave us room 25064, a Go room with one of the best views I have had in Vegas. It overlooked Bally's, the Strip, City Center and the Bellagio fountains. Unfortunately, it also reeked of smoke so badly we relocated to 20005, minus the view (it overlooked the pool), but still a Go room. I liked it quite a bit. Trendy 70's style striped wallpaper, a pink glow from the bathroom containing a really cool shower with some nicely placed extra jets, and the coolest thing I've seen in hotels in a long time: a TV set inside the mirror. Wow. There also was a DVD player with iPod connectivity and a serious bass speaker, a huge flat screen and a fridge. The room wasn't especially spacious, but definitely worth the extra bucks.
It was 8.30 p.m. by now and I was dead tired. Courtesy of LVA, we headed to Ellis Island for an hour of unlimited alcoholic beverages and that helped. When I whipped out my 25 plus player's cards to get Ellis Island's one that was necessary to use the coupon, the waitress quipped "Nobody should have so many players cards !". Due to the less than enthousiastic service, we only got 4 drinks each. I explained the basics of video poker Wolfgang and he was quite successful, turning $1 into $4.50.
We stumbled back and I crashed at 10.30, while Wolfgang roamed the Strip for another hour.