SATURDAY
4:15 am
It's a cool Saturday morning long before dawn that we meet on the mean street in front of Dan's house. There are four writers: Mike, Dan, Phil, and Matt. Two valets, Mike #2 and Darin, also come along to serve us and keep us from having to do any physical labor. You invite yourself along at the last minute.
Dan best captures the spirit and emotion of the moment when he says, "Well, I guess we should get going." Everyone piles into Matt's and Dan's cars and we head out onto the interstate.
6:36 am
One of the most picturesque images in the world is the sun rising over the redneck desert community of Barstow, California. The hazy yellow light filters down on the gas stations and truck stops. A little celebration occurs in the cars as soon as we pass the city limits because we did it!! We got past Victorville and Barstow. We have tried to go to Las Vegas twice before but didn't make it this far. The first time, Dan saw batting cages in Victorville and we spent 36 straight hours taking our cuts. The second time, we got all the way to Barstow before Darin saw a sign for fresh strawberry pie at the Bun Boy Restaurant and and we got no farther.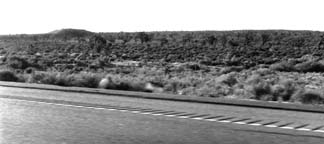 The Mojave Desert lazily stretches between California
and Nevada, its monotony broken only by mounds of dirt.
After passing Barstow, Matt and Dan feel like they can drive straight through to Las Vegas. Phil, however, says that he's gotta go and would like to stop at the rest area. Once there, he discovers he didn't have to go tinkle after all.
Before getting back in the cars we do the next best thing to gambling: Gamboling!! A Hare Krishna selling popcorn kicks the crap out of Dan.
We're having fun!!
8:30 am
Our cars traverse the road that cuts through the brown hills and into the valley below. As bright as a festering boil on a man's butt, Las Vegas stands in this basin surrounded by nothing. It is startling to see the massive hotels stacked side by side in the middle of nowhere. Driving into the city, we read the names of the various casinos and hotels. Each has a different theme. There's the Excalibur, Luxor, Rio, Sahara, Tropicana, Aladdin, Caesar's Palace, Circus Circus, and the Shakespeare Grove Playhouse and Casino.
A billboard for the Las Vegas show "Crazy Girls" draws Phil's attention. He is fascinated by the idea of a show dedicated to women suffering from mental illness.
Our first taste of the city is Bally's where Matt places some baseball bets and we go crazy over the video poker machines until we discover that you have to put money in them to play. What kind of town is this?!! This blatant greed leaves a bitter taste in our mouths, especially after we lose close to a dollar among us.
Before leaving we steal 11 Bally's pens from their sportsbook plus two change cups. At a value of 20 cents for the pens and 15 for the cups we more than cover our losses. Mike, thinking the chairs at the blackjack tables are also complimentary, tries to leave with one. The security guards threaten him with bodily harm and he is asked not to return to the hotel. Phil chooses not gamble because he does not want to wager on an empty stomach.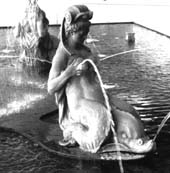 The classy old Bally's Fountain featured
mermaids squeezing life-giving chlorinated
water from their boobies.
9:30 am
On the way into town we saw billboards for every hotel. But the one that drew our attention advertised an "all-you-can-eat " buffet breakfast at the Circus Circus Hotel and Casino for only $2.69. Again, the city reveals its hidden greed as we discover that only rubes fall for that falsely claimed price. The meal actually costs us $2.87 apiece (some mutterings from the cashier about a so-called "sales tax").
The first thing we notice at the Circus Circus is that it smells like chocolate inside. The casino has circus acts above the casino. Also, just like Bally's, this place has slot machines and this game where people throw dice. You say that you've seen that game before and that it's called "craps." This sounds so funny to Phil that he laughs until something flies out of his nose.
At breakfast, we meet up with Matt's friends from work, Ed and Steve, and they join us. Even though it is a limitless buffet, Matt gets Steve, a Canadian, to buy his sausage for 15 cents. This proves to be a smart move, because when Dan bites into his, a stream of grease shoots all the way across the table. Dan also braves the chipped beef which Matt describes as looking like "vomit." Apparently it tastes okay.
11:00 am
The mammoth Riviera Hotel is home to the exciting show extravaganza "Crazy Girls." "Crazy Girls?" some people may ask, "just what exactly makes these girls so insane?" Well...do you know many girls that are so nutty they'll take off their tops in front of complete strangers? That's sheer zaniness!
Wedged into the strip next to the home of "Crazy Girls" is the quaint, attractive home of the Carving Cart restaurant. That's right, the fabulous El Morocco Motel. The El Morocco is known as the home of Las Vegas's "Dwell in the sky" palace; THE sky tower. And the motel itself is the epitome of luxury. It's sky tower rockets into the atmosphere a full NINE stories and we are lucky enough to get one room on the next to top floor. From our eighth floor vantage point we can oversee scrub brush, trash, a chain link fence AND an empty parking lot!! Phil says he is afraid of heights and we are forced to get a room on the first floor as well.
The bed spreads would make a mother proud. They seem to be of an indestructible vinyl material much like a picnic tablecloth. The carpeting is a beautiful chameleon-like dark brown. What color was it originally? Hard to say!
It is said that a good motel can be distinguished by the quality of the maintenance. Judging by that standard, the El Morocco Motel is in a class by itself. Duct tape seems to be the material preferred by fine craftsmen as it is used to patch holes in the carpeting in the hallways, in the rooms, in the furniture, and in the big leather sofa in the lobby (it better not be vinyl at $44 a night).
(Two notes to our readers that would like to stay at the El Morocco: ASK FOR A ROOM WITH WORKING LIGHTS, AIR CONDITIONING, PLUMBING, ETC. AND DON'T HAVE YOUR HAIR DONE BY ITS "IN-HOUSE" HAIR STYLIST.)
Phil describes the situation best by saying "We're experiencing the seamier side of Las Vegas, beneath all the glitz and glitter, the hype and the hoopla, the lights and luster, the wonder and-" Mike kicks him in the shin and says "Shut up!"
12:10 pm
Our first stop after relieving ourselves in the bathroom facilities of the luxurious El Morocco is the adjacent Silver City Casino. Either this place is owned by Circus Circus Enterprises or just enjoys advertising for them. We don't spend any money here, at least no BIG money (i.e. more than $2.00 collectively), but they see us as the high rollers (read Hiiiigh-rollaaawwrrrs) we are and try to lure us into staying with tempting free gifts. A free deck of cards for each of us starts this veritable parade of gifts. High quality cards? Let's just say that Silver City has chosen not to encumber them with plastic coating or an ink that doesn't smear. Even before we're done receiving our cards, Silver City refrigerator magnets are thrust into our accepting hands.
The next float in this Rose Parade of freebies is a free cocktail. We figure, Hey, this is Las Vegas! It's time we got a little crazy and mosey on up to their quaint little bar. We start the wild weekend officially with icy cold Coca-Colas all the way around. Things are starting to get crazy now!! Mike dares to be different and orders a ginger ale. Out of control!!