Hitchin'
Up!
Lured away from the Gold Spike by the low weekday price of the mega-resort Plaza, Matt and I were partaking of the cracked concrete and just slightly sagging net of the tennis courts next to the pool. The recreation complex sits on the fifth floor, and the courts are fenced in pretty well so that the players do not go tumbling down to the hard asphalt of the loading dock below. The Plaza will loan guests (and they don't bother to check if you really are a guest) all the necessary equipment to play. Of course, their equipment consists of loosely strung rackets and very flat, bald balls that are actually quite difficult to hit over the fence. But after many tries, I finally managed to get one moon shot out to the train tracks below.
After a rousing match in the 105 degree heat, Matt and I decided to take a drop in the pool to cool off. On our way, we were approached by a new friend I had met on the plane, Angela. She and her boyfriend John had missed the same plane from New York that I had, so we had already established a pretty close bond.
Angela told us that she and John had been planning on getting married, and that they had chosen the Graceland Chapel (619 Las Vegas Blvd. So., 702-474-6655 : 800-824-5732), which offers ceremonies for $190, and feature an appearance by the King of Rock and Roll, Gary Numan. Apparently Gary was out of town this particular weekend, because Angela told us the wedding would actually be attended by an Elvis impersonator. She invited us to come and see the festivities, as well as to be their official photographers. Matt and I leapt at the opportunity, a tacky wedding being one of the few things in Vegas neither of us had yet witnessed. She told us they were thinking of doing it at six that evening, and that she would leave us a message to confirm the time and location later that afternoon.
After our swim, we headed to the strip to see if we could win ourselves enough money to afford rental tuxedos. We ended up at the Sahara, which is by far the nicest low-roller joint in town. We sat down at an almost completely empty $1 blackjack table, and were playing for less than ten minutes when a waitress came by and offered to get us drinks. At first, neither Matt nor I knew what to make of this woman, as we were unaccustomed to free drink service in our usual hang-outs, but we figured out the system quick enough. While we both took some winnings away from the Sahara, we didn't come close to enough for any fancy rental clothing, so we sadly resigned ourselves to the fact that we would have to attend the ceremony in our shorts and t-shirts. Matt suggested we get a tube of lipstick and write on our T-shirts "Show us your tits" for the nuptials, but I couldn't remember what Miss Manners said about this and told him I would rather be safe than sorry.
Back downtown, we arrived in our room to find no less than four different messages from the happy, and clearly nervous, couple, confirming that the ceremony would go down at 6:15.
We had an appointment at 4:30 to meet with some guy running a multi-level marketing operation . In an unsollicited e-mail he had promised us scads of cash for our involvement in his scheme which combined "mink-farming and telecommunication technology." Aside from not wanting to be rude to someone that sent us e-mail, we have an active interest in everything mink.
Because of the wedding, we knew we would have to cut the appointment short, and it was lucky for us, because "multi-level marketing" turned out to be a nice way of saying "illegal pyramid scheme." We had the perfect excuse for a quick retreat.
We arrived at the Graceland Chapel promptly at six. We were impressed with the understated elegance of the giant sign proclaiming that superstars Jon Bon Jovi and Lorenzo Lamas had both said their vows at this classy joint, but not to each other.
The future newlyweds had not yet arrived, so Matt and I scanned the area in search of a cool drink. We met a nice woman with bleeding gums and bruises all over her arms, who affirmed our high estimation of the neighborhood. She asked where we were from and when Matt told her we were living in the dumpster of the motel down the street. She said we needed to try harder.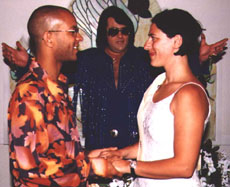 The King in action

Finally, the betrothed arrived by bus, with another couple in tow. John and Angela introduced us to Bonnie and Jimmy, from Oregon, who they had met minutes ago on Fremont Street. They were not sure if we would show up, so they had rounded up some back-up photographers. This turned out to be very helpful, as John and Angela were independent filmmakers who had with them more photographic equipment than one would find at some small Hollywood studios.

We determined that I would take care of the Super-8mm camera, Matt would shoot the video, Bonnie would be in charge of still photos, and Jimmy would serve as the audience. John and Angela took care of the paperwork and tried to calm their pre-wedding jitters.

They showed us the rings, which they had picked up earlier that day. They had chosen to go with traditional plastic bands, topped by massive candy diamonds.

The couple who had the 6 p.m. slot came trudging out, with sour looks on their faces. They had not appeared to have enjoyed themselves much, but we didn't let their response dampen the joyous mood and we all filed in to the chapel.

The justice of the peace came in and introduced himself to everyone, and waited until we were all situated in our positions. John waited up front, his orange polyester shirt shining, Matt, Bonnie and I took to our respective corners, covering all angles, and Jimmie sat somewhat uncomfortably in a pew. Angela looked resplendent in her white dress, waiting in the back for her escort to walk her down the aisle and give her away.

The justice asked if we were all ready, and upon our affirmation, said, "Okay, let's get this thing started." He made some kind of signal, and in walked the King, weighing in at 270 pounds, and sparkling like a welder's torch at work. He wore a blue, faux rhinestone encrusted jumpsuit, huge sunglasses, and some of the shaggiest mutton chops I had seen in my life.

The justice started a tape which would accompany the King in his rendition of "Love Me Tender." Angela took Elvis' arm and they began their march toward the front. Cameras whirred and flashbulbs popped. John took Angela's arm from Elvis, and they looked in to each other's eyes, embarrassed and nervous, but also deeply in love.

Apin' Elvis

John and Angela spoke their vows, acccompanied by the sound of the surprisingly noisy motor of the super-8 camera. John pledged to commit himself to Angela forever, and she did the same. They exchanged rings, showing more than alittle grace by resisting the urge to take a quick taste. Then they kissed like the world around them was collapsing into dust. Elvis broke into song again, and they were officially man and wife.

The justice beat a hasty retreat out back to take a swig from his flask, and Elvis invited the couple to sit down and be serenaded. He started the tape again and asked if they had any requests. John was momentarily dazed, and said he wanted to hear "Love Me Tender." Elvis reminded him that he had already done that one, and suggested "Viva Las Vegas." That seemed appropriate enough, so off he went, swinging his hips under a wave of blubber and making his lips twitch repeatedly.

We convinced Elvis to stick around for a few minutes and ham it up for some photos. He was very obliging. His experience shined through as he suggested a variety of appropriate poses for all of the attendees. He even did his best to seem amused by the whole operation, despite having seen it thousands of times before.

After the King finally escaped, we headed outside for some more photos in front of the chapel. As a wedding present, Matt and I offered to drive the newlyweds to the strip in our rental car, so that they wouldn't have to take the bus. They were very grateful, and we parted ways, promising to get together later that evening for some cheap, after 11 p.m. eats at the Las Vegas Club, one of the finest wedding receptions since the beginning of time.