| | |
| --- | --- |
| | Super Scary! |
New Vegas Poem
This Vegas old-timer
remembers when the highest thing on the strip
was 10 times odds at the Frontier.
The Frontier stands,
but no longer is.
The old west compared to Monte Carlo?
to Ancient Egypt?
to Oz?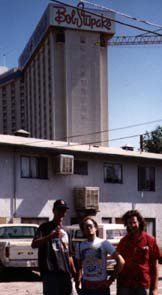 Consumer-friendly corporate fronts
encourage family
and traffic safety.
There are kids downtown.
This young Vegas Old-Timer remembers
when kids would have been fingersnacks
on the downtown strip,
when there was broken glass,
and real puke,
where there is now
a dealer in Africanish artifacts.
So we dive, we Vegas lovers,
to find the thick syrup of sin:
The Western Casino
has a fight going on outside.
This is as likely as any place,
and we get lost inside
by the penny slots
where a lost hag in zebra spandex
makes a pass at Mark.
He pretends to pass a kidney
stone and runs to the men's room.
Matt sits beside a man,
with a face of a twelve-year old
(a bearded twelve-year old)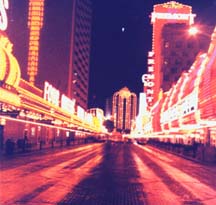 and a home-made tattoo saying
"Life, Sex, Death."
He doubles on a twelve.
Matt, winning, pretends life is hard,
and that he too works at an STP.
Truth, smokelike, leaves an invisible odor.
Phil calls out
"Hey, retard!"
and gets laughs.
But dropping ashes on the table doesn't matter.
This goes on for some time.
More real sleazejuice catches us at the Gold Spike
but
they are trying to improve their rep
and running in the casino
gets us yelled at and carded.
However, a fat queen is dealing blackjack
and there's something cool, ominous about his
saying,
"In a starter casino, you prove you can deal.
Once you do that, they don't care if you're a
murderer, or whatever."
Still, the Spike is no longer its former
glory: they've somehow exorcised
the smell of vomit.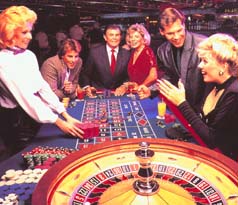 The Plaza is still Vegas.
25 cent craps that pay low rollers high.
Lots of beer
Lots of smoke
People who make fun of people
and entertainers who would rather be sleeping
and don't mind effusing somnambulence
in the course of "Brick House."
Dan shudders, and gets down.
This Vegas old-timer is finding that Vegas
grows up
and up
and no matter how bad a time he should be having,
it is ineffably gladsome
to be on top of the Gold Spike,
drunk and reeking,
when the light breaks in the sky overhead.