Old Before Their Time
Four Vegas Veterans Tell Their Tales of Woe in the Oh-Eight
Part 3 - Saturday Begins
Part 1 || Part 2 || Part 4 || Part 5
DAN CONTINUES TO TALK:
Ah, the city by the bay. Cool breezes. Food and coffee and wine, and the best dim sum outside of the Asian continent. And I don't mean San Francisco, either. San Francisco is for posers.
The East Bay is where it's at. East Bay Rock On! 33rd Street! Word to the 33rd! Huh! Except the dim sum, which is in San Francisco after all. I'll never forget dining at Yank Sing. I can't forget it because I go back any chance I get. Each little dumpling is something special. So when Mike Ho suggested a dim sum breakfast in Vegas, and not a stone's throw from the Poker Tournament, I was gung ho for dim sum, even though the name of the restaurant was a bit befuddling.
Jerry and I arrived first at Ping Pang Pong. Wasn't that a song by Spike Milligan? We felt a little out of place in the plaza-style restaurant that looked out onto--what else?--slot machines. It wasn't that we were Caucasian, but that the restaurant was empty when we arrived. Nevertheless, I told the kimonoed waitstaff that we expected about a dozen for breakfast, and they arranged us at a long table.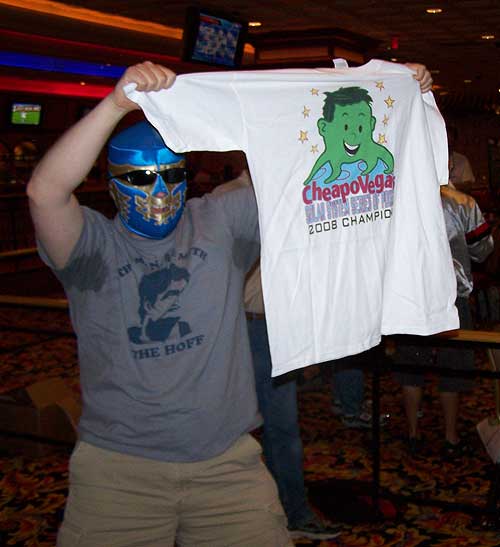 The famous masked wrestler "Pits McCoy" shows off the classy 2008 Solar System Series of Poker T-shirt given to all tournament entrants, whether they want one or not.
Soon, Mike Ho arrived with Fine Print, Bagels, DJ Juice G, and a whole swaggle of hornswagglers. Thomas and Wolfgang sat next to Jerry and I, regaling us with tales of poker and Germany. Mike Ho, whose fine idea this was, stood over the table and helped us order (though I was happy to try whatever passed on the steam carts).
In general, the table happily tucked into the doughy, greasy treats, but Jerry stuck with the most western of the dim sum, things that resembled hot dogs in buns, or donuts. I liked the shrimp shumai, and the steamed pork buns best. Yum! I found myself eating far too much and enjoying every bite. I felt like Robert Stack... until...
I looked over Thomas's shoulder at the table next to ours and saw a man greedily devouring chicken's feet. That wasn't such a problem, except that his style of eating the feet consisted of:
Phase one: putting each entire foot into his mouth,
Phase two: letting the tiny phalanges trickle off his lips back onto his plate, while...
Phase three, talking non-stop to his dining partner.
So basically, chicken bones fell from his mouth like words. For him it was nothing unusual. For me it was off-putting. The tiny bones dropped like punched-out teeth. And they hit his plate with small impacts. They made a distinct sound: "Ping. Pang. Pong."
I patted my lips, stifled a wet belch and asked to be excused. I figured Mike would pick up the tab. Or Jerry. Or the German guys. Anyway, I needed to get to the poker room early so I could rig up my secret spy cams.
You didn't read that.
STACK TALKS:
Finally, the Solar System Series of Poker 2008 Tournament arrived, following four very necessary plates (plus three dessert plates) at Main Street Station. I needed nourishment to thrive through so many hours of poker. I save my serious aggression for the all-important consumption of food. I really should apologize to the old lady whose ankle I may or may not have twisted when we crossed paths on the way to the roast beef carving station. But food comes first, and I'm sure she was all right after she got up.
By the time I reached the tournament all my aggression had been spent. At the poker tables, I stayed and played, and played...and played. But really I played very little.
Pocket King-Nine,suited? Kind of risky with that nine messing things up. No thanks.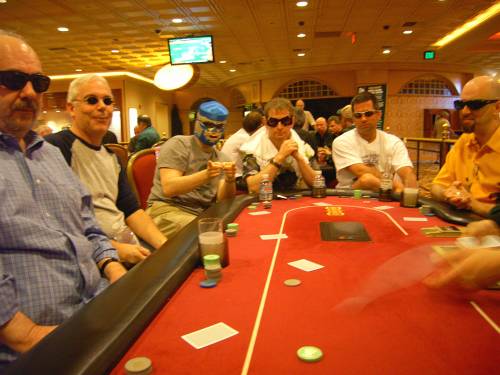 The tables of the 2008 Solar System Series of Poker were made up of pros, toughs, ruffians, hooligans and a few flat-out weirdos.
Eventually the blinds leached my money, and when I finally was forced to play and win with pocket aces, I made enough to stay in all the way to the final table. Of course, by then, the sharks were out. While other sharks had been knocked out by my cunningly passive play, those remaining soon stripped me of everything I had once I was forced to go all-in as a really, really big blind.
I was ecstatic to win, where "win" means "didn't come in dead last".
DAN TALKS:
Arriving at the poker room, a gentleman I'd never seen before asked what my user name was. When I said I didn't have one, he snubbed me as though I were an interloper, or someone who was letting chicken foot bones fall out of his mouth while talking. But then, to make me feel at home, Scott from Canada greeted me and told me all about his credit card's airlines rewards program.
Darleen Skier from Alabama greeted me, too. She claimed to be feeling lousy. I offered condolences, but her doldrums made me feel a little more lucky since she had done so well in the tournament the year before.
I want to say that I love this part of the annual Vegas trip. I love greeting the Bills; saying hi to Jacqueline, Burt, Andrew, Cameron, Walt, and all the usual suspects. We've been coming here for years. We pick up threads of conversation from the summer before like no time had passed. I am generous with gracious hugs, knowing that this is the year these folks will not foil my plans for winning the tournament.
One of these days, guys, you really should just let me win. It's easy:
Step one: Go all-in against me on the flop.
Step two: Wink at me, so I know what you're doing. I'll call.
Step three: Fold on the turn.
Thanks in advance.
This year, I had a few tricks up my sleeve, borrowed from my 2-year old daughter's extensive collection of playing cards. Her decks include phonics, old maid, random picture words, plus a chewed up pack of El Cortez playing cards. In my pocket I held the four of Apes, the House, the Nuts, and several other important cards that would come in handy.
But though I played the four apes a couple times and also threw out the picture of the number seven holding a saw under the heading "S," I never did get to play The Nuts. I guess it's because I'm pretty bad at poker.
Early in the game, for instance, I hit a full house against a very possible flush and raised modestly. I'm not sure why modestly. I guess so as not to scare anybody out. I got raised back. It was the showdown. I didn't want to scare anyone out, so I called. Of course I won, but my chicken-bones play failed to bring the ammo to take the bracelet this year even with all the cards up my sleeve. In time, my chips trickled away. Soon I was all in. Then I was all out.
It came down to Scott, Walt and Bill Turk.. Like watching reruns of Joanie Loves Chachi.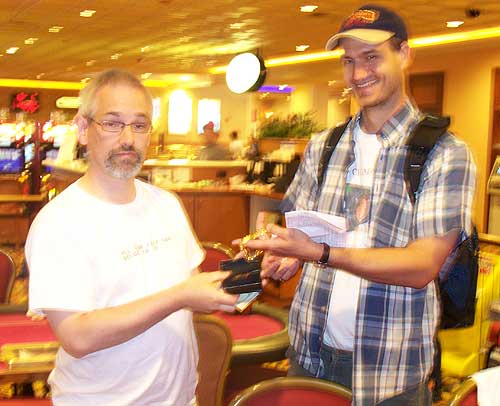 The Big Empire's Matt congratulate 2008 champ and two-time bracelet winner Scott. Later, Scott was mysteriously stabbed with a shiv in the men's room.
"Screw this," I said and hijacked Shakes, fresh out of chips, to take me--and Jeff Barr--to check out the Palazzo. I don't know who won. Neither does Shakes. And Matt doesn't mention it in his part of the report. Nor Phil, who was sipping a sticky glass of brown liquid. So if you're reading this to find out who won, then your luck is as good as mine was the day of the tournament.
If you haven't been there, you may be surprised to learn that Palazzo is a hotel / casino. It's grand. It's big. It's swank. Other than that, it isn't too surprising. Shakes and I were happy to sign up for the Palazzo Player's club for free slot play, which we staked on video roulette. I tried the "make a smiley face with your chips" tactic, but the magic wasn't there. But Shakes, playing video roulette as blandly as he plays poker, shook up a $40 jackpot. Free money!
Jeff, Shakes and I flitted through the shopping areas. Palazzo's premium retail shops include Barney's of New York. That's mainly it. Therein we saw an ugly line of naked mannequins wearing sale signs. Jeff went to shoot it, but the clerks at Barneys are more private about their imagery than the security staff in the casinos these days. Jeff was tersely asked not to take photos at risk of losing his camera.
"Why?" he asked innocently.
"It's proprietary," said the salesperson.
"But that's butt ugly," I commented of their sales mannequins. "Who's going to steal that idea?"
She wasn't sure, but Jeff still couldn't shoot it. So he did it on the sly instead. Yeah, Jeff!
We went up to the third floor of Barney's where I spotted the ugliest jacket I'd ever seen. A raunchy plaid cloth cut in an unflatteringly short style. It was $2000. I guess my taste doesn't match the taste of people who spend $2000 on jackets. I'm glad. But I bought it anyway.
We left Barney's on the top floor and quickly saw that the rest of the Palazzo's suite-level shops are not yet occupied. The only other thing on that floor was a pigeon trap holding a lone, rather confused pigeon. Inside the cage was a bowl of corn. A one-way door permitted pigeon entry, but not pigeon exit--without severe tire damage. We considered letting the little bird go, but instead, Jeff shot it. With his camera. That would teach them. Then we lingered over the bird's eye view of two cute "co-op slappers" handing out pamphlets at the bottom of the escalator.
STACK TALKS:
After winning free money, it was time to see the mall portion of the shiny new Palazzo. What dazzled me most was its pigeon cage way up on the top floor--it held a real, angry, live pigeon! Could this be some kind of training for a spectacular new show featuring... pigeons?
I've always had such respect for pigeons, because they'll eat anything and be happy with it. I understand that. In fact, the more I looked at the trapped pigeon, the more I noticed the plumpness of its little thighs, the possible succulence of its wings. I began to gather scraps of cardboard and paper to start the roasting fire, but Jeff dissuaded me with the promise of some candy from the Venetian mall, which adjoins that of Palazzo.