Old Before Their Time
Four Vegas Veterans Tell Their Tales of Woe in the Oh-Eight
Part 1 - Thursday
Part 2 || Part 3 || Part 4 || Part 5
PHIL TALKS:
Hi. I'm Phil. And I'm NOT an alcoholic.
STACK TALKS:
The minutes moved slowly without any food. I was ready to pass out from hunger. That's life in the new age of air travel, where gourmet meals are bygones of a more delicate time. I would have eaten nearly anything, though chewing in-flight magazines is a last resort. I couldn't believe how long the flight from Phoenix was taking--42 minutes so far.
"I'm starving," I told Jeff.
"It's only one more minute," he said.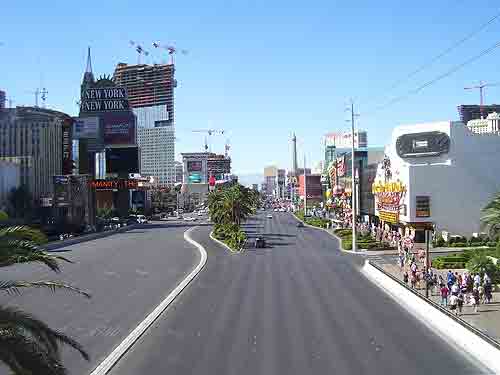 The Strip upon our arrival. Waiting to explode, just like a stomach after the Riviera buffet.
One long minute later, we landed. It's always a dramatic arrival when you see all the casinos in stark relief against the flatness, but it's even more dramatic when your stomach acids threaten to digest your own kidneys while you stare at the lights of a city overflowing with food. When we finally moved with the herd into the terminal, my irresistible hunger pangs met the immovable force of airport food pricing. Four bucks for one slice of cheese pizza?! Seven for a sandwich?! I had to get out of there.
Jeff and I made it outside to Level Zero, where limos await their flush passengers. Not us. We waited for the 109 bus to swing us downtown. This route has a shuttle every 12 minutes costing merely a buck twenty five. Pay the fare, and you're whisked downtown, where whisked is somewhat faster than bicycling. Mile after mile, I resisted the urge to eat the cold fries from a bag on the floor. When we finally disembarked, I was ready for some Vegas food action, and maybe a little gambling, too.
Eighty-eight paces up The Fremont Street Experience, we reached the Deep Fried Twinkies and the Deep Fried Oreos at Mermaids (once Sassy Sally's). So many times we'd wandered to the back of this casino to find the snack bar closed. It was open only once, but that time we were rebuffed with a stern warning that it would take half an hour to heat up the grease. With The Hunger, I could never wait that long. But this time, luck was with us: the snack bar was open, and the grease was spitting hot.
Jeff and I ordered two Twinkies and two baskets of Oreos. Each. Then we ordered four more of the Twinkies because I accidentally ate both of our orders while Jeff was distracted by a slot machine.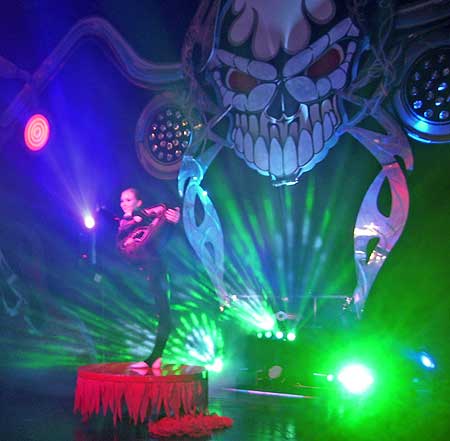 A few Big Emperors visit the (Las) Vegas Club's short-lived and bewildering free show "Sin City Circus". No, we weren't sure what the heck was going on either.
Oh, how juicy, hot, and tasty they were! I burned the roof of my mouth, my tongue and my gums, but I didn't care in the rush of sugar sweet delicacy. They pour so much powdered sugar on these treats that I was looking quite the snowy slob down my front as I licked each finger twice in turn. It was disgusting. I ordered another round.
When we finally met up with the rest of the crew--who had sensibly eaten elsewhere so as to avoid clutching their stomachs through the night--it was time for some gambling. I was amped on sugar and jittery with anticipation, for I had saved up for months and studied "Lucky" Ned's IncrediGaming in preparation of hot table action.
Back in the olden days, gambling in Vegas meant twenty-five cent craps, dollar blackjack, and all sorts of ways to play without much cash. Nowadays Vegas is getting so snooty that they only want People With Money playing. Sadly for me, I am not one of those. So off we went to the Joker's Wild in Henderson.
There we rolled dice through the evening at our Henderson gaming hovel. We racked up a number of big wins, or at least I did. It was weird that I was the only person smiling and laughing a lot. But that's what happens when you insist on always playing ten times odds for maximum gambling impact. And when your blood sugar is on nitro overdrive.
It was devastating to me when they shut down the table early. Without winning money at craps to distract me, I realized I was starving. At the Joker's Wild Court Cafe, I was very ready for the half chicken and all you can eat salad bar. These salad bars are kind of lame, because vegetables are a waste of precious stomach space. But thanks to an endless supply of croutons (which actually turned out to be less than "endless"), I filled up pretty well, possibly enough to make it through the night.