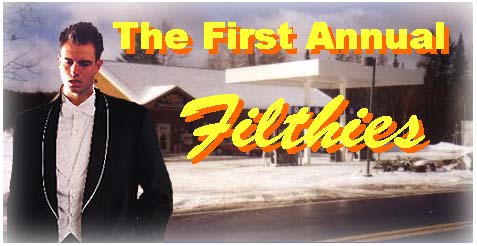 Now that everyone is seated, and Barbra is out of the ladies' room and we've deodorized it (Jesus, Babs, take it easy on the dairy products, huh?), we can begin this evening's festivities. This year, there are seven Filthy categories. We will start by having some of the celebrities present announce the nominees. After that, you may click on the appropriate envelopes to find out who won.
Without further ado, the Filthies.
The "You Suck Smelly Ass" award is given to the performer who has most degraded herself and the audience by being completely inept and/or not caring. It is the lowest acting award presented in the United States and hopefully sends its recipient into depression and a career tailspin. Pat Morita presents the following nominees:

Sheryl Lee for "Vampires"
Meg Ryan for "You've Got Mail"
Kathy Bates for "The Waterboy"
Neve Campbell for "54"
Uma Thurman for "The Avengers"

1998 was a stellar year for actors that sucked smelly ass. It is not easy to pick just one prick deserving of the award, but I have, and I leave it to Rebecca Romjin to present the nominees.

Ryan Phillippe for "54"
Kenneth Branagh for "Celebrity"
James Woods for "Vampires"
Adam Sandler for "The Waterboy"
Greg Kinnear for "You've Got Mail"

"You Kick Ass" is my way of thanking the ladies that made going to the movies a treat. I do not want to have sex with all of the nominees, although some of them are on the list partially for that reason. Michael Douglas will now tell you the nominees.

Magda Szubanski for "Babe: Pig in the City"
Clare Forlani for "Meet Joe Black"
Natasha Lyonne for "Slums of Beverly Hills"
Cameron Diaz for "There's Something About Mary"
Christina Ricci for "Buffalo 66"

More coveted than winning an Oscar for any actor is not sucking smelly ass. Even more coveted still, is kicking ass. I thank the following actors for respecting the audience and giving us something to think about. Leeza Gibbons presents the following.

Vince Vaughn for "Clay Pigeons"
Billy Bob Thornton for "A Simple Plan"
Phillip Seymour Hoffman for "Happiness"
Orson Welles for "A Touch of Evil"
Dylan Baker for "Happiness"

Every ceremony has some award for lifetime achievement. We're no different except that "Fuck You, Nora Ephron" is given to the person most responsible for cashing in without giving a shit about the American public. It is given to the most cynical, cold-hearted asshole in Hollywood. someone who didn't even bother to think about us as anything more than customers with cash. If this person thought he or she would have made money by filming dog shit for two hours, this person would have. Gavin McLeod tells you who screwed us the worst.

Nora Ephron for "You've Got Mail"
Adam Sandler for "The Waterboy"
Kevin Williamson for "The Faculty"
Bob and Max Weinstein for "54"

In 1998, it was hard for me to pick just one movie that stood out as being the most "Extraordinary Lack of Achievement." For me, it was not the movie that was sucked the most. No, it was the one that pissed me off the most. Top to bottom, everyone involved just fucked up royally and yet the studio still released it. Delia Ephron is gracious enough to present the nominees.

The Waterboy
54
You've Got Mail
Vampires
The Avengers

What constitutes a great movie? To me, it's one where I walk out of the theater excited. The way the story is told, the things that are said, make me cream my jeans and want to go right back in. There is nothing in the world better than a great movie. It makes me think, for a few minutes, that people care, the world is good and there is a place for me in it. All of the following flicks made me glad that Thomas Edison invented movies in the first place. I myself will list the nominees.

Smoke Signals
A Touch of Evil
Babe: Pig in the City
Buffalo 66
A Simple Plan
Return to the Filthy Critic Home Page
Want to tell the Filthy Critic something?
©1998 by Randy Shandis Enterprises. All rights fucking reserved.